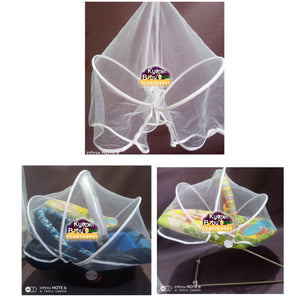 This net protects baby while sleeping in the car seat, bouncer, or swing from mosquitos and other insects. 
Comes with strong metallic elastic edges to help fit every car seat or swing easily yet firmly.
Brand new and of high quality with no holes or tears anywhere. 
Net is easily washable in a bowl of water (not in machines).
Has no treatments, chemicals or repellants that your baby may react to. It's only a safe plain net.