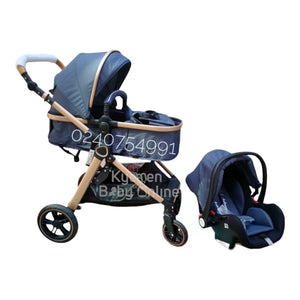 Description.
Mom Friendly:  Stroller is compact & travel- friendly light weight stroller.
This Perfect 3 in 1 baby stroller can function as a Stroller, Car seat and even a co sleeper. 
Front Wheels and Suspension – All Terrain Wheels with Front Suspension for Smooth Ride.
Has a storage back under neath which can keep baby's food,  diapers or mummy's water. 
With Shade to cover and protect baby from direct sunshine and heat.
Includes a car seat, stroller and has a storage basket under. Can serve as a cosleeper to. 
Suitable for 

0-3 YEARS

 (

12kg)