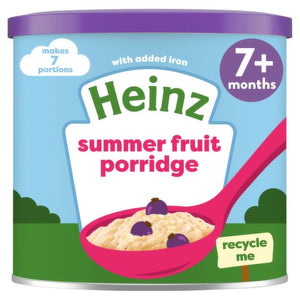 Expiry Date: 10th February,  2024
Mixed fruit flavoured multigrain porridge with milk, added vitamins and minerals and soft pieces.
Check out more of our other yummy baby cereals and baby food at HeinzBaby.co.uk
Use as part of a varied weaning diet.
Rise and Shine to easy peasy breakfast times with our yummy Heinz First Steps Summer Fruit Porridge. 8 Yummy servings for your little one to start their weaning journey!
Our summer fruit porridge tastes delicious and contains 12 key vitamins and minerals, with little lumps perfectly tailored for your little one!
Packaged in a protective atmosphere.
Contents are liable to settle after packing.
No added egg.
With added vitamins and minerals
Just add water
Contains a handy scoop inside
Gluten free
No artificial flavours, colours or preservatives