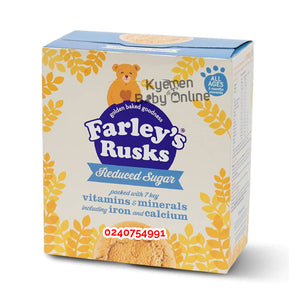 Expiry Date: 01/11/2024(big)
Golden baked goodness. 

Packed with 7 key vitamins & minerals including iron and calcium. 

Rusks are a great way to gradually introduce your baby to solid foods.

Contains 30% less sugars than Farley's Original Rusks. 

Farley's Rusks have been loved by parents and babies for generations.

Experts in baking rusks for babies and toddlers. 

Each rusk is lovingly baked using baby grade ingredients

 

One Rusk provides 20% of your baby's daily iron requirement. 

No artificial colours, flavors or preservatives. 

No GM ingredients. 

Suitable for vegetarians.